MOPAN Assessment of UNDP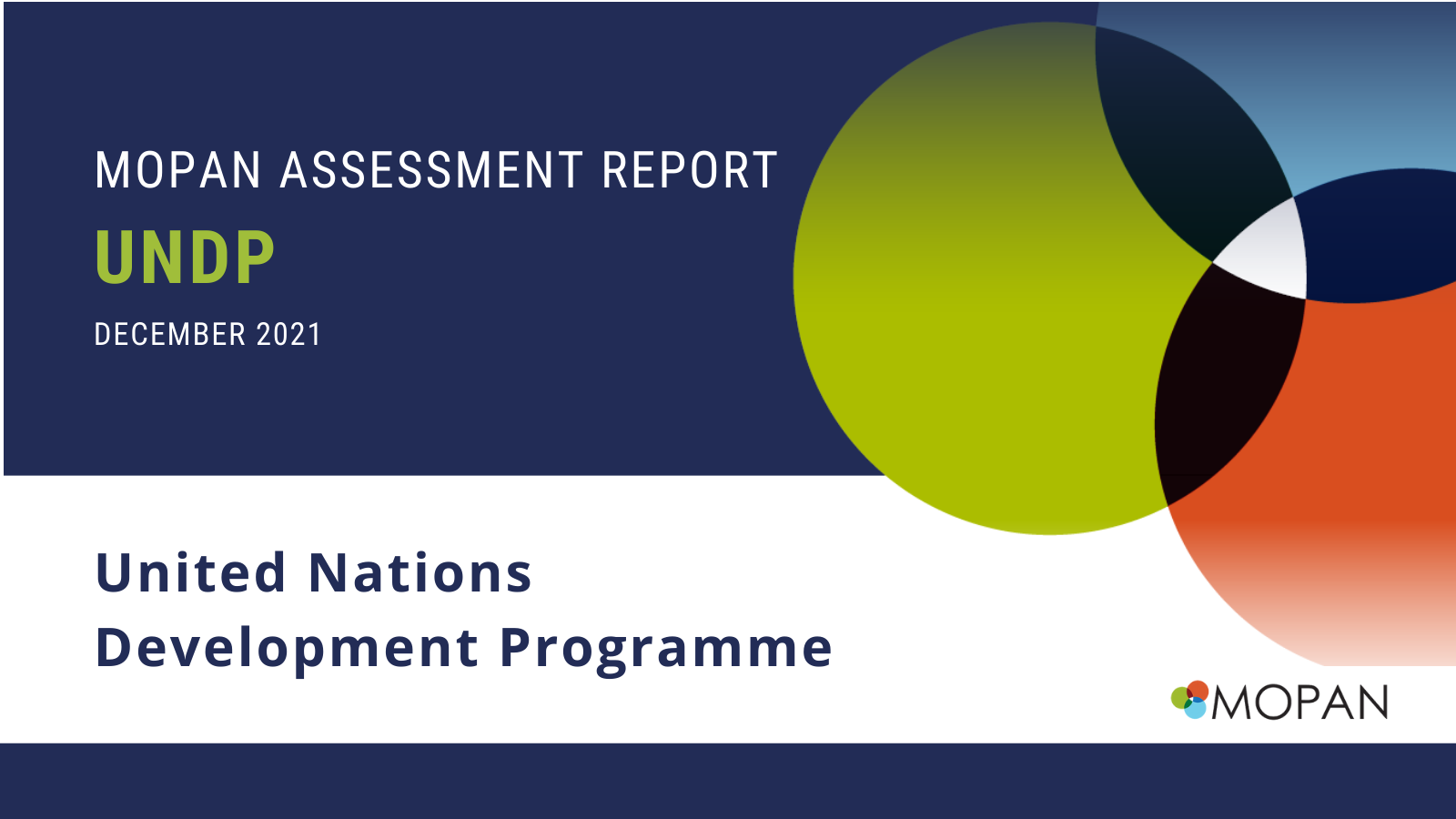 In 2021, MOPAN published its assessment of the United Nations Development Programme (UNDP). This was the fourth MOPAN assessment of UNDP, following previous ones in 2009, 2012, and 2015-16.
Overview
Founded in 1965, the UNDP is a large, multifaceted, heterogeneous and highly decentralised development organisation, operating globally across a broad range of areas and themes. Its mandate includes, but is not limited to, poverty reduction, democratic governance, peacebuilding and state-building. The past four years have been extraordinarily turbulent for UNDP. The adoption of the 2030 Agenda and subsequent United Nations Development System (UNDS) reforms, as well as the disruptive effects of the COVID-19 pandemic, have had far-reaching consequences. Since the organisation's most recent MOPAN assessment, the UNDP has been implementing its Strategic Plan 2018-2021, and has been working to spearhead multidisciplinary approaches to development, as evidenced by the organisation's "whole of society" response in attempt to align with the Sustainable Development Goals.
Key MOPAN assessment findings
UNDP has handled the turbulent context of the recent years well. It fully aligned with the 2030 Development Agenda, played a constructive role in UN Reforms, and demonstrated great resilience and new dynamism in responding to the COVID-19 pandemic. UNDP – a partner agency at heart - is strongly committed to, and aligned with, Member States' priorities.
Its effective decentralised decision-making and resource allocation mechanisms support this.
UNDP's strong management systems, independent evaluation and oversight functions and its transparent information disclosure have made it a trusted partner.
* For more key MOPAN findings on UNDP, read the report.
"Alongside its traditional roles, UNDP is seeking to reposition itself both as an innovator and, as mandated by the General Assembly and featured prominently in the Strategic Plan 2018-21, an integrator within the UN development system."
A major challenge, and a source of strategic and reputational risk highlighted by the assessment, is UNDP's funding structure. The voluntary contributions UNDP receives cover its priority areas very unevenly. Its corporate strategies reflect intent, but do not steer the organisation towards results. Interventions remain fragmented and are scattered across many themes and areas. Also, the organisation currently exhibits multifaceted strategic ambitions and initiatives, and plays many roles – project implementer, operational service provider, and more recently that of an integrator, innovator, and strategic thought leader within the UN system. To successfully re-position UNDP within the UN Development System, the organisation will need to align its organisational structure, processes and people to the role(s) it wants to play.
Jolanda Profos, Assessment Manager, MOPAN
✉️ jolanda.profos@mopanonline.org
Cara Yakush, Communications Manager, MOPAN
✉️ cara.yakush@mopanonline.org
Share this report